Posts tagged
marianna wynne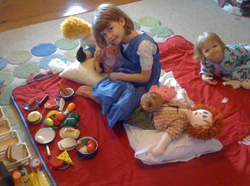 I was so happy with the presents that I got for Christmas.
I got a loom, sleeping bag, wooden food, new clothes for my baby doll, a handmade doll from Baba, sketch pad and paints, other stuff and this laptop that I am using now to post to my new blog.
Thank you everyone for your presents, I feel so loved.
I got a Powerbook G4 laptop for Christmas and I have started to use Photoshop. Here are some of the art pieces that I have done and I will continue to add more so come back later.
no images were found