Inspirational
I shall wonder all the time,
If we are committing crime.
This is why I will think so,
I will want you all to know.
There are loggers cutting down,
Trees in every single town.
For our paper everyday,
For each dollar that we pay.
Ruining the animals place,
For our selfish human race.
Then we take the space we've got,
That big, huge and empty lot.
For unnecessary roads,
Giving workers heavy loads.
Then we pay them with a tree,
Our selfish human race.
~ Marianna Wynne
8/25/12
Inspired by: The Story of Stuff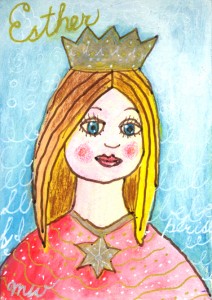 I have always loved the Bible stories of queen Esther. How she was a sad orphan girl until her uncle took her in and changed her name from Hadahsa to Esther, which means "star".
It is amazing how she was then chosen because of her beauty to pass before the king as a potential wife. She was chosen although I think it was not only her outward beauty but her inward beauty and because Jesus had a special plan for her.
She was willing to die because she loved her people. If you have not read the story you should, it is one of my favorites.